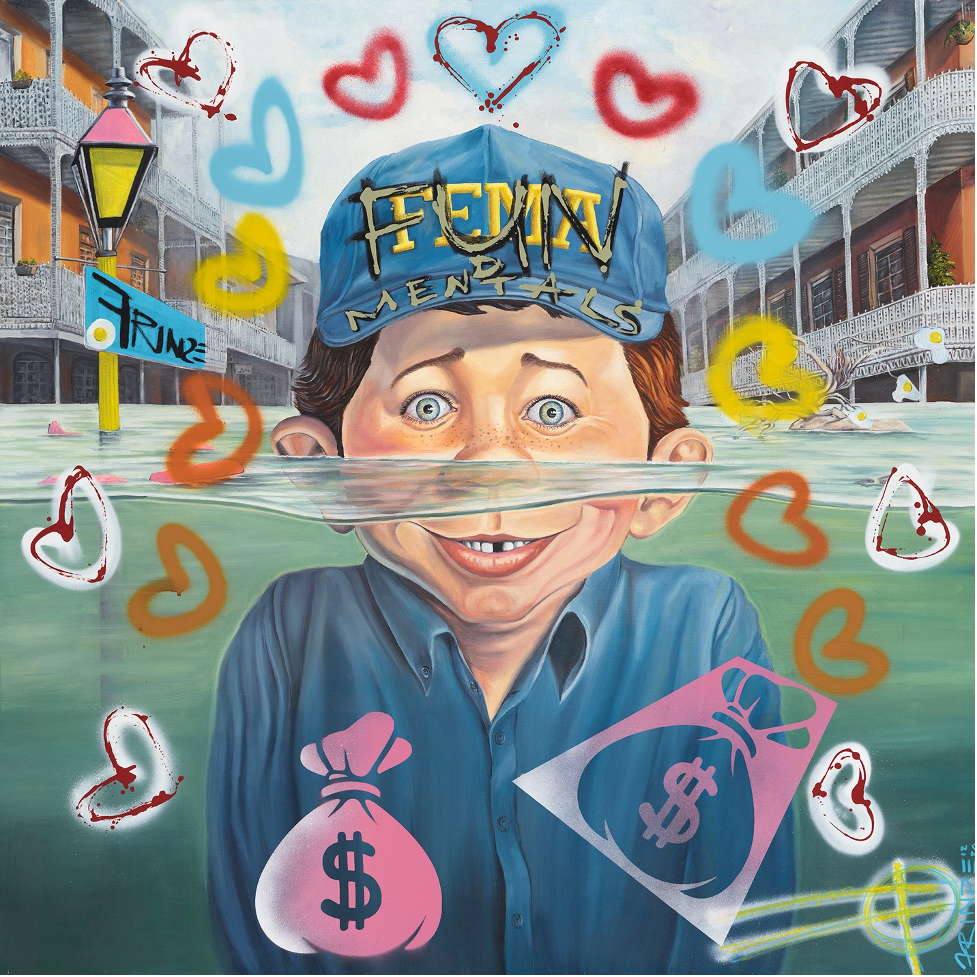 Party dresses and party poopers
My ongoing infatuation with Alfred E Neuman, the mascot of the now defunct MAD magazine, is really an infatuation with selfie culture. This is influenced mainly by the way that we don't really care about the person in the selfie, yet we care enough the ogle at their lives. We are more interested in their material existence than their emotional one. It fits so well with the pop artist's need to question how brands become staples of our cultural diet, and why.
The photograph by Diane Arbus of the Wade Twins is the world's 10th most expensive and sought-after photograph. The photograph is the inspiration for the twins in Kubrick's 1980 movie The Shining and, as well, the inspiration for a double portrait in MAD Magazine of Alfred E Neuman as the twins in both contexts. Can you get a better, more seasoned image to use as a backdrop to high end brand logos like Louis Vuitton and Chanel?
The branding, while being the supreme pop element, does question what type of image is befitting of a universally revered brand. Why are the Wade twins not good enough to carry a logo, even in their party dresses? And why is it so contradictory to see Alfred E Neuman in little-girl drag supporting a Louis Vuitton logo?
The answer lies, of course, in the way in which we allow only a certain type of celebrity to advertise high-end brands. When a fictitious loser like Alfred E Neuman appears before the logo of something intended primarily for the glamour market, it adds yet another dimension to our understanding of how we support the unbending glamorization of popular brand culture, based on envy and exclusion.
But I don't want to be the type of artist that is always at loggerheads with those who invest in high-end brands. I want to question why we think they add value to our lives, without writing them off, since they are so important to our dreams and aspirations. If we can engage with, and understand their power over us, then perhaps we will be one step closer to getting our own brands off the ground that can add to our own longevity.
I am determined to survive off my art. That is why I am determined to find the right balance of elements that will be meaningful, without being too light or too heavy. Elements that will even intrigue future generations.
One of the things that struck me, while I was planning my latest series called Paradise Vally, is the inequality in the art world. It's something that I hoped art could rectify although I don't k...
Read more
It's been almost 90 years since Brassai started photographing graffiti on the walls of Paris. Today there's nothing particularly special about photographing city walls with markings on them by pe...
Read more