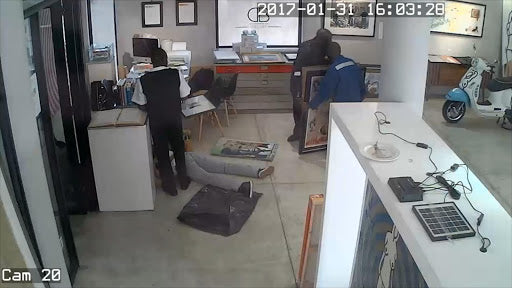 Thieves will battle to resell unique artworks heisted from Joburg gallery
Daville Baillie Gallery has been robbed. The thieves appeared to be targeting specific artworks.
The brazen robbery of five unique pieces of art at a gallery in Norwood' Johannesburg' has left the owner baffled' as the niche art will struggle to be resold. Darren Neofytou' owner of the Daville Baillie Gallery' said three armed men entered the gallery on Tuesday around 4pm' and held up his manager and a client.
``It makes it seem like they knew what they were after. They went specifically for two of Richard's works and two of Fringe's works'`` he said.
Neofytou said the robbers got away with five pieces valued at about R600'000' which included two pieces from South African artist Richard Scott' titled Studio 29 and Studio 30' as well as two pieces in mixed media by graffiti inspired artist Fringe' called Antediluvian I and Antediluvian II. Neofytou said the fifth work was a smaller oil painting by Wakaba Mutheki' titled Trump. "They can't [resell these pieces]. That's what I can't understand. It's literally impossible'" he said.
"We've notified every gallery' and the market is very small. Not only did they take highly noticeable works' the works that they stole are literally of the rarest that the artists produce'" said Neofytou.
"For example' Richard Scott has only ever produced 29 works like that in his life. Fringe is a relatively new' high-selling artist. We're exclusive with this guy and we've only sold 40 of his pieces'" he said.
He said not only were the pieces rare and recognisable' but they were quite big – with Fringe's works being almost one meter by one meter.  Neofytou described the brazenness of the robbery as "ridiculous"' saying whenever the robbers attempt to sell the piece' they'll find out about it immediately.
Norwood police spokesperson Captain Elliot Chivase confirmed that the police were investigating a case of business robbery and that three people were wanted in connection with the heist.